Scholarship Details
The OCRA Scholarship Committee is accepting applications for our 2023 Scholarship. FRC students on teams in Southern California are encouraged to apply for this $1,000 academic scholarship. 
To be eligible for the scholarship, you must:
Complete and submit the online application by April 30, 2023
Participate on an FRC team located in Southern California [1]

Be eligible to enroll, and agree to enroll, as a full-time student in an accredited college university, trade school, or other higher education program in the United States starting no later than the fall semester of 2023

Use the scholarship to pursue your continued education plans
The Scholarship Committee will select the scholarship recipients. Up to three scholarships will be awarded. At this time, regretfully, we are not prepared to include international team candidates for scholarship consideration. Scholarships will be awarded based on the following:
Someone that embraces FIRST values of Gracious Professionalism

Emphasis on the whole person, not necessarily robotics in general

Outstanding achievement as a FIRST student in a key area (Business, Impact, Engineering, Public Relations, etc.)

Good academic standing

Demonstration of individual character/Integrity

Volunteer work
The winner(s) will be announced at the close of the 2023 school year; stay tuned for details around when and how recipients will be announced. 
[1] "Southern California" is defined as the area including San Luis Obispo, Kern, San Bernardino, Santa Barbara, Ventura, Los Angeles, Orange, Riverside, San Diego, and Imperial Counties. 
Application Instructions
To apply for the Scholarship, you must provide each of the following to the Scholarship Committee no later than April 30, 2023:
Your completed online application form 

A letter of recommendation from a robotics mentor or high school instructor who can speak to your involvement in FIRST. Letters must be submitted directly by the mentor/instructor to

[email protected]

.

A brief essay (up to 4,000 characters, including spaces) in which you discuss

1) Your participation in the FIRST Robotics Competition and the impact of the competition on your life

2) Any specific need relating to your continued education plans
Finalists will be asked to verify their academic standing with their current school after the application has been submitted.
All materials should be e-mailed to the Scholarship Committee at the following address: [email protected]
To receive your disbursement of scholarship funds, you must send the Scholarship Committee a copy of your letter of commitment to a higher education institution by July 31, 2023.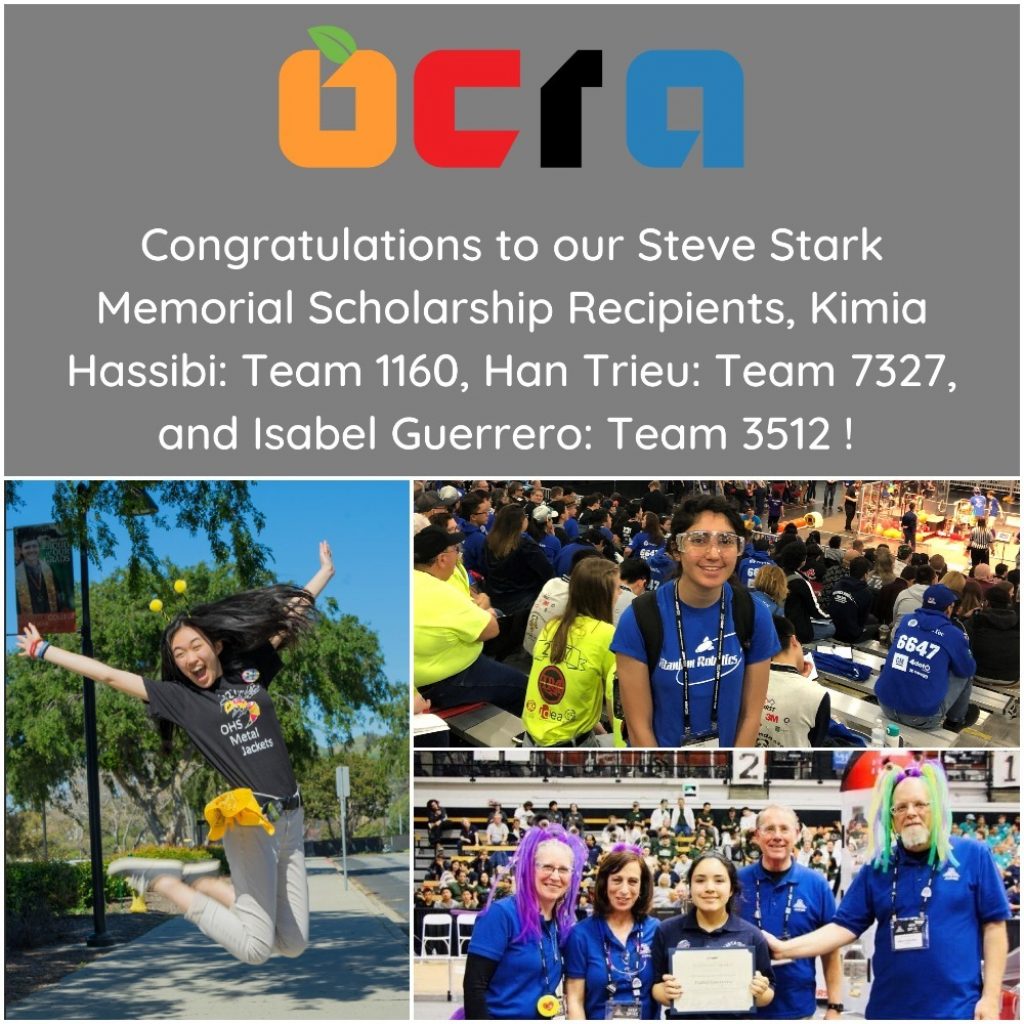 Congratulations to our past OCRA Scholarship recipients!
Thank you for all that you have done for your teams and your community.